News and Information
You'll find news about the bank, as well as helpful information that you can use to improve and secure your financial life.
Community Involvement
Gretna Crossing Park Sponsor
2022 Golf Fore Grants

2022 Elkhorn Days Parade
URB employees had a great time at the 2021 and 2022 Elkhorn Days Parade and we can't wait to be back in 2023!
Financial Literacy in our Community
URB Banzai Sponsorship
Teachers around the country are scrambling to meet state literacy requirements—with little to no financial help. United Republic Bank is helping fill that gap with cutting-edge software, interactive classroom materials, and professional presentations. United Republic Bank is a proud sponsor of the Banzai Financial Literacy Program at the following schools:
CONCORDIA JR/SR HIGH SCHOOL
ELKHORN HIGH SCHOOL
ELKHORN MIDDLE SCHOOL
ELKHORN RIDGE MIDDLE SCHOOL
ELKHORN SOUTH HIGH SCHOOL
KIEWIT MIDDLE SCHOOL
ST PATRICK'S CATHOLIC SCHOOL
VJ & ANGELA SKUTT CATHOLIC HIGH SCHOOL
Click Here For More Information
Keep Omaha Beautiful - Adopt a Spot
United Republic Bank proudly supports Keep Omaha Beautiful. Our employees are committed to using their Volunteer Time Off to keep the park areas at Lawrence Youngman Lake cleaned on a monthly basis.
To read the full article, please click here:
Stuff The Bus
United Republic Bank employees gathered up food and supplies to help "Stuff the Bus" for the St. Vincent De Paul Food Bank in Omaha, sponsored by WOWT 6 News and Methodist Health System. Just one more way our employees are helping to give back to the community we live in!
Elkhorn Athletic Association
We proudly support our local athletes each year through the Elkhorn Athletic Association.
Red Nose Day
Each year the employees at United Republic Bank proudly support Red Nose Day to help end child poverty - one nose at a time. For more information, please visit RedNoseDay.org
Sponsoring Seniors in the Omaha Metro
United Republic Bank purchased gifts for 27 Seniors in the Omaha Metro this holiday season. These Seniors were adopted by employees at the Eastern Nebraska Office On Aging (ENOA).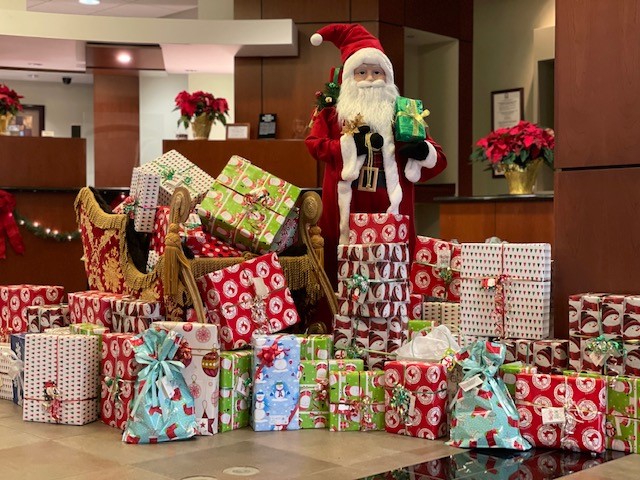 Fraud & Security
Welcome to United Republic Bank's Customer Fraud & Security Center. You'll find useful tools - from ransomware resources, to calculators, to educational podcasts - all available at your convenience, 24/7/365.
5 Ways to Help Protect Your Identity
5 Ways to Help Protect Your Identity from Federal Trade Commission on Vimeo.
ID TheftSmartTM Protection

ID TheftSmart TM
We would like to help protect you from the fastest growing crime in the U.S. by offering your ID Theft protection through Kroll ID TheftSmart™.
Identity Theft
Some companies' idea of restoration amounts to handing you a do-it-yourself kit. Not with ID TheftSmart™. They provide full-service restoration, which means their experienced, licensed investigators do the bulk of the work on your behalf.
Smart Credit Monitoring
Of course, the best way to safeguard your identity is through constant vigilance and early detection. ID TheftSmart™ provides continuous credit monitoring to alert you to any potential problems or suspicious activity.
Minor Monitoring
Minor Monitoring is protecting your children against Identity theft. ID TheftSmart™ monitors for any credit activity and if activity is detected, the adult will receive an alert.
Identity Theft Membership
For pricing and membership options please call and speak to a Personal Banker at 402-505-8500.
October is Cybersecurity Awareness Month
Ransomware Resources

The U.S. Government launched a new website to help public and private organizations defend against the rise in ransomware cases. StopRansomware.gov is a whole-of-government approach that gives one central location for ransomware resources and alerts. We encourage organizations to use this new website to understand the threat of ransomware, mitigate risk, and in the event of an attack, know what steps to take next.
The StopRansomware.gov webpage is an interagency resource that provides ransomware protection, detection, and response guidance that they can use on a single website. This includes ransomware alerts, reports, and resources from CISA, the FBI, and other federal partners.
Keeping Seniors Safe
Top Five Cybercrimes Affecting Older Adults
Social Security Impersonation Scams
Scammers impersonate Social Security Administration employees to obtain your money or personal/financial information.
Warning Signs:
• The caller threatens to suspend your Social Security benefits.
• The caller tries to charge you for services the Social Security Administration provides for free.
Robocalls
Hackers change their caller ID to a number other than the one they are calling from and pose as representatives from your bank, credit card company or a government agency to obtain your personal information.
Warning Signs:
• The message says you owe money and face legal or financial consequences if you don't pay right away.
• A prerecorded message tells you to press "1" or some other key to be taken off a call list.
Romance Scams
Scammers create fake profiles on dating sites and social media, often using stolen photos, to obtain your money or personal/financial information.
Warning Signs:
• They ask you to start communicating by text or personal email, away from the original site you met on.
• After gaining your trust, they start telling you stories of bad luck or medical emergencies.
• They ask for money, gift cards, or funds to pay off credit cards.
Family/Friend Imposter Scams
Fraudsters call you pretending to be a family member, often a grandchild, and claim to be in urgent need of money to cover an emergency.
Warning Signs:
• A grandchild is in trouble and needs money immediately.
• They don't want their parents to be contacted because it would get them in trouble.
• Payments are requested by wire transfer, prepaid debit card or gift card.
Tech Support Scams
Scammers use pop-up messages, fake websites, or phone calls to trick you into thinking your computer has a serious problem. They obtain your money by having you pay for fake technical support, or steal your personal/financial information by gaining access to your computer.
Warning Signs:
• You are asked to pay for tech support or other services with a gift card, cash-reload card or wire transfer.
• The message contains bad grammar or misspelled words.
• Someone calls or emails you claiming to work for a brand-name tech company such as Microsoft or Apple.
Tips to Protect Yourself
• Check your financial statements each month for any suspicious activity
• Never send money to someone you don't know personally
• Know that fraudsters often pose as interested romantic partners on the internet
• Practice cyber security - use updated security software
• Never give your credit card, banking, Social Security, Medicare, or other personally identifiable information over the phone unless it is with a trusted, verified number or website
• Always consult your doctor before purchasing health products or treatments
• Screen your phone calls using voicemail. You do not need to respond to everyone who calls
Elder Fraud Resources
National Center on Elder Abuse
Internet Crime Complaint Center

FDIC Insurance Calculator
FDIC's Money Smart Network
The FDIC's Money Smart Podcast Network covers a range of topics. From the basics of making wise borrowing decisions, to developing a budget to achieve your goals, these courses are designed to be both user-friendly and educational.
Download Our Mobile Banking App
Take the bank with you no matter where you are. Our mobile banking app works on iOS and Android devices and is a great way to put the power of banking in the palm of your hand.